Sealing is a fundamental part of any stone floor installation. If your builder or tiler hasn't sealed your floor, he's done something wrong – and it can cause significant problems. To the untrained eye, it may be difficult to tell whether a floor has been sealed, but you will quickly see that an unsealed floor attracts a lot of ingrained dirt and loses its lustre easily over time.
This was a problem for one of my recent customers, who lives in Milton Keynes in Buckinghamshire. They have a Slate tiled Kitchen floor which had been laid approximately 5 years prior, but had not been sealed properly on installation – and had not received any professional treatment since.
Consequently, the floor had become difficult for the customer to keep clean and it had lost its lustre and coloration due to ingrained dirt. Additionally, recent building works had left thick deposits of plaster on the tiles.
Cleaning a Dirty Slate Tiled Kitchen
To begin restoring the Slate tiles, I applied Tile Doctor Pro-Clean, which is a powerful alkaline-based cleaner for natural stone. I mixed a strong dilution of the product, spread it liberally across the area and left it to dwell for 20 minutes to seep into the pores of the stone.
Next, I scrubbed it into the stone using a brush fitted to a heavy weight rotary machine, before rinsing the floor with a high-pressure water and wet extraction unit.
The next stage of the cleaning process was to get rid of the plaster deposits and some of the heavier stains. To deal with these I needed to apply an even stronger cleaner, known as NanoTech HBU (Heavy Build-Up Remover).
As its name suggests, the product uses nano-sized cleaning particles to penetrate beneath difficult stains to dissolve them and lift them out. I did this in combination with a steamer to help loosen up some of the plaster.
Sealing a Slate Tiled Kitchen
After allowing the floor to dry overnight, I returned to the property the next day to seal the tiles. I did this using five coats of Tile Doctor Seal and Go, which is a double-action sealer: not only does it provide a robust, topical seal, it also provides a durable low-sheen finish which is aesthetically pleasing.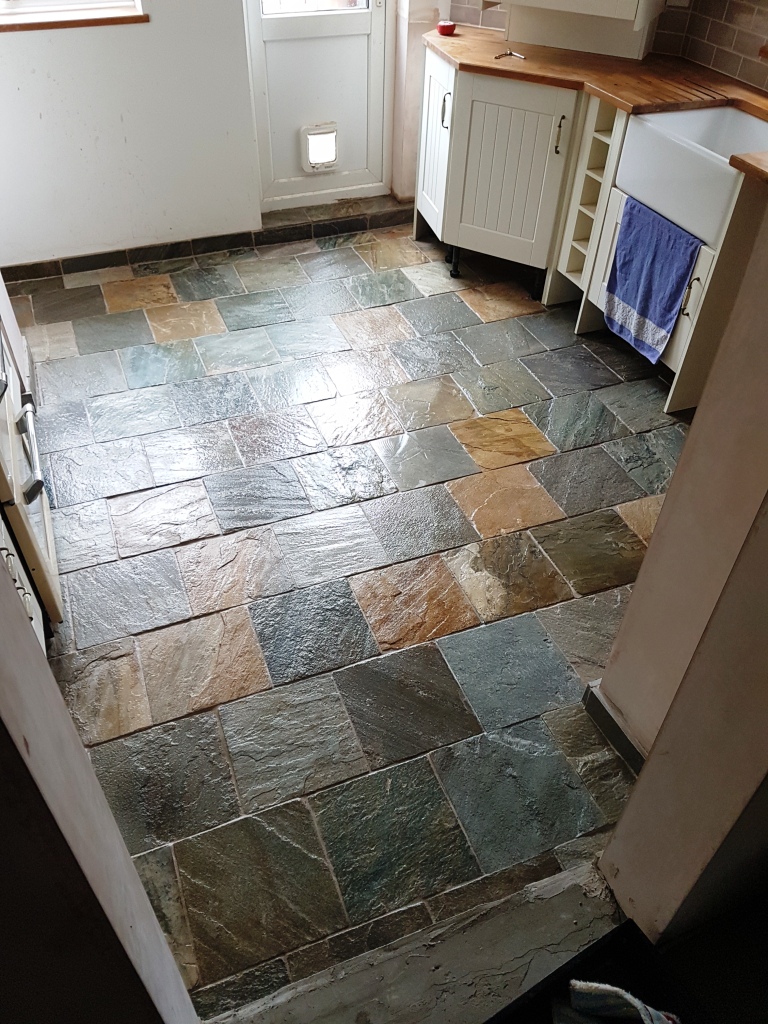 The sealer has done a fantastic job of emphasising all the natural colours in the Slate and the appearance of the entire floor has been lifted. The customer was really pleased with the restoration which certainly had been a long time coming.
Restoration of a Dirty and Stained Slate Tiled Kitchen Floor in Buckinghamshire
Restoring a Poorly Sealed Slate Kitchen Tiled Floor in Milton Keynes